Meskipun membuat news script atau naskah berita tidak mudah seperti membuat kartu ucapan dalam bahasa Inggris, namun bukan berarti mustahil dipelajari!
Kuncinya kamu bisa mengambil topik yang up to date, lalu perhatikan konsep 5W + 1H dalam membuat naskahnya. Sehingga, naskah berita dalam bahasa Inggris yang kamu buat akan menjadi sempurna. Di bawah ini adalah 4 contoh berita bahasa Inggris singkat dan artinya. Simak yaa!
Baca juga: Struktur dan Ciri-Ciri News Items yang Perlu Kamu Pahami
Contoh Berita Bahasa Inggris Singkat
SCTV- travelers were killed was struck by a train
A motorcyclist died instantly due to being struck by the Railway Department Lodaya Bandung-Solo at the door of the train crossings in Kampung Babakan Java, Tasikmalaya, West Java, on Saturday (3 / 9). The incident had made ​​the long traffic jams along the region Indihiyang.

Time of the incident, a motorcycle driven from the direction of Tasikmalaya victim drove to Bandung. At the door of a railway crossing is closed, motorcycles kept going. The victim, Joseph Suherman, unable to escape when trains from the east to grab the bike.

Joseph was thrown from his motorcycle and hit the parapet dantewas in place. Motorcycle he was driving was destroyed.

"I've warned her, but she was pilfering and finally caught a train," said the doorman crossings, Andi Nahrudin. Accident cases are handled apparatus Police Traffic Unit Tasikmalaya City. (ASW / SHA)
SCTV-pemudik tewas disambar kereta api
Seorang pengendara sepeda motor tewas seketika akibat disambar Kereta Api Lodaya jurusan Bandung-Solo di pintu perlintasan kereta di Kampung Babakan Jawa, Tasikmalaya, Jawa Barat, Sabtu (3/9). Peristiwa itu sempat membuat kemacetan panjang di sepanjang kawasan Indihiyang.
Saat kejadian, sepeda motor yang dikendarai korban melaju dari arah Tasikmalaya menuju Bandung. Di pintu perlintasan KA yang sudah ditutup, sepeda motor terus melaju. Korban, Yosep Suherman, tak mampu menghindar saat KA dari arah timur menyambar sepeda motornya.
Yosep terlempar dari sepeda motornya dan menghantam tembok pembatas dantewas di tempat. Sepeda motor yang dikendarainya hancur.
"Saya sudah memperingatkannya, namun dia menyerobot dan akhirnya tersambar kereta," kata petugas penjaga pintu perlintasan, Andi Nahrudin. Kasus kecelakaan ini ditangani aparat Satuan Lalu Lintas Kepolisian Resor Tasikmalaya Kota.(ASW/SHA).
Contoh Berita Bahasa Inggris dan Artinya
Traffic accident
A fuel truck lost control while speeding on the Mangunraharjo road, Surabaya and suffered serious accident. The truck crashed a motorcycle that came from the opposite direction and burned. A pedestrian who saw the incident said that the fuel truck was seen speeding then all of sudden swerved and hit a motorcyclist who came from the front on 1st December 2014.
This incident made the motorcycle rider was killed instantly after being hit by the truck while the truck driver suffered serious injuries to the chest and head.
30 minutes after the incident, the police came to investigate the Accident. After doing investigation, they found the cause that the driver was sleepy when driving the truck. In addition to the brake that didn't work, so he couldn't control his truck and hit the victim. The current truck driver had been taken to Doa Ibu hospital to be treated.
Artinya:
Kecelakaan lalu lintas
Sebuah truk pengangkut bahan bakar minyak hilang kendali saat sedang mengebut di Jalan mangunrharjo, Surabaya dan mengalami kecelakaan yang parah. Truk tersebut menabrak sebuah motor yang datang dari arah berlawanan dan terbakar. Seorang pejalan kaki yang melihat kejadian tersebut mengatakan bahwa truk pengangkut bahan bakar minyak itu terlihat menegebut lalu tiba-tiba oleng dan menghantam seorang pengendara motor yang datang dari arah depan pada hari senin 1 Desember 2014.
kejadian ini mengakibatkan seorang Pengendara motor tewas seketika setelah dihantam oleh truk sementara sang supir truk mengalami cedera parah pada bagian dada serta kepala.
30 menit setelah kejadian, polisi datang untuk melakukan penyelidikan, setelah dilakukan penyelidikan ternyata supir truk sedang mengantuk ketika mengendarai truk dan ditambah lagi dengan rem yang tiba-tiba blong jadi dia tak bisa mengendalikan truknya dan menghantam korban. saat ini sopir truk sudah dibawa ke rumah sakit harapan ibu untuk dirawat.
Contoh Berita Bahasa Inggris Tentang Pendidikan
University of Bristol failed to make allowances for student with severe anxiety, court told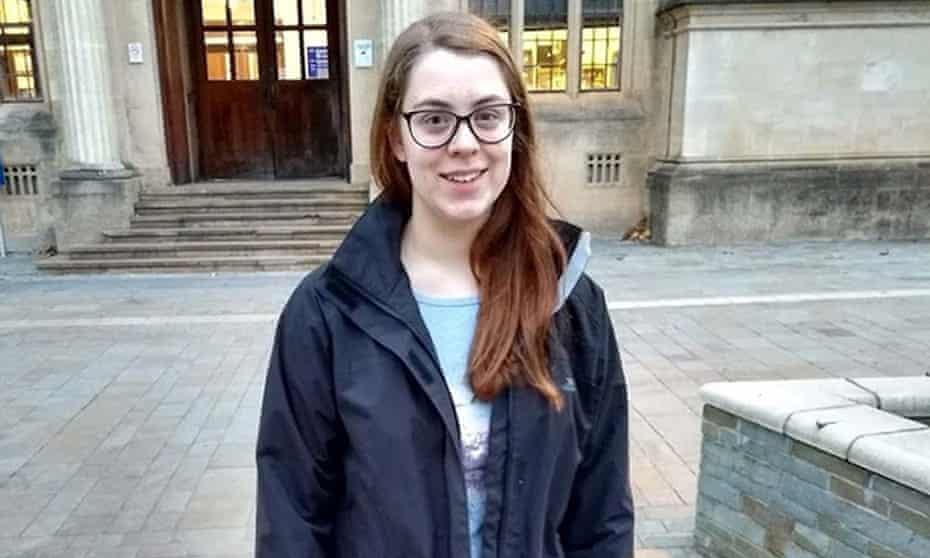 The University of Bristol failed to make "reasonable" allowances for a student with severe social anxiety and fear of public presentations that contributed to her depression and subsequent suicide, a county court has been told.
The allegation came on the first day of a case against the university brought by the parents of Natasha Abrahart, a 20-year-old physics undergraduate who was found dead at her flat in 2018, a day before she was to take part in a presentation to staff and students.
Robert and Margaret Abrahart are suing Bristol under the Equalities Act for not taking reasonable care of their daughter's "wellbeing, health and safety", arguing that the university did not do enough to help despite staff knowing that Abrahart suffered from mental disabilities and was struggling with her studies.
The parents say their daughter was a victim of discrimination as a disabled student.
The court heard that Abrahart experienced great difficulty in meeting new or unfamiliar people, with a friend, Rajan Palan, recounting that her feelings of loneliness at Bristol were "exacerbated" by her shyness making her unable to talk to people outside of a close circle.
On the first day of the hearing, attention was focused on the assessments used in Abrahart's physics course, including a laboratory conference where Abrahart was expected to take part in presentations to about 50 people in a large lecture theatre.
Jamie Burton QC, for the claimants, said there were "several reasonable adjustments" that the university could have allowed Abrahart, including replacing oral assessment with written assessment or examination of Abrahart's laboratory notebooks, or providing her with written questions in advance.
For the conference, Burton told the court that the university could have held it without other students present, or moved it to a smaller venue than the 329-seat lecture hall used.
Burton noted that Abrahart's parents were not alleging that members of staff breached their duty of care to their daughter, and recognised that many had tried to help her.
In its formal response, the university said that both academic and non-academic staff tried to engage with Abrahart over alternative assessments. But it also argued that it was not reasonable to remove the use of oral assessments because it would have "compromised" Abrahart's education.
Burton told the court that there was a significant deterioration in Abrahart's mental health in the months before her death, with Abrahart carrying out internet searches on subjects including "Why do I hate people?" and "Why do I find people scary?".
Margaret Abrahart, under examination, said her daughter had not told her of her fears over the assessments or presentations. "I knew something was upsetting her hugely," she said. "If I questioned her I knew it was going to be very stressful."
An inquest in 2019 ruled that Abrahart killed herself partly as a result of a "gross failure" to provide care by Avon and Wiltshire Mental Health Partnership Trust, which "significantly underestimated" her condition. Abrahart was one of 11 University of Bristol students to kill themselves between 2016 and 2018.
The hearing at the Bristol civil justice center continues for another six days, with a judgment reserved for a later date.
Contoh Berita Bahasa Inggris Tentang Bencana Alam
CNN TV-Tokyo, Disney land Reopens After Quake
It's billed as "the happiest place on Earth." And Friday, Disneyland's Tokyo theme park reopened in hopes of bringing some of that missing happiness back to the Japanese people.
The park has been closed since the March 11 earthquake that devastated northern Japan and the electricity shortage that followed. Disney fans lined up as early as 6:30 a.m., an hour and a half before Friday's reopening, hoping to be the first into the park.
Mickey and Minnie Mouse, Goofy, and a host of other Disney characters surprised visitors as the gates opened at 8 a.m. A sort of Disney hysteria swept over the crowd as Mickey danced in front of visitors minutes before the official opening of the park.
"We were so excited, we were almost crying," Tokyo Disneyland visitor Mika Hasegawa said.
The re-opening comes at a critical time for Japan, as the country struggles to regain some semblance of normalcy after the earthquake and tsunami that killed 13,500 people in the country's northeast.
Many Tokyo residents have refrained from excessive celebrations and parties out of respect for the victims. But Disneyland visitor Minako Ootsuka said that while Japanese people should be mindful of the disaster, it's also important to have a good time and release stress.
Hiroshi Suzuki, public relations manager for Oriental Land Co. — the company that owns Tokyo Disneyland — agreed. He said visitors were so elated when they saw Mickey and the other characters, he wished he could bring that kind of happiness to all people in Japan.
Other visitors to the park said they thought it was important to start getting out and spending money to get the economy running again. Erika Kanehira said she planned on visiting Tokyo Disneyland as often as she could and would also purchase merchandise to help the disaster area recover.
For every guest admitted to the park through May 14, Tokyo Disneyland will donate 300 yen (about $4) to the Japanese Red Cross. The park will also be operating under shortened business hours in order to save power.
Suzuki says the company hopes to get the park up and running on usual business hours as soon as possible. But most visitors are happy to have the park back at all.
Tomomi Takehashi said Disneyland was a place where people can come to laugh and smile — and that may be exactly what the Japanese public needs right now.
CNN TV-Tokyo,Disneyland kembali Buka Setelah Terkena Gempa
Ini disebut sebagai "tempat paling indah di bumi." pada hari Jumat, taman Disneyland di Tokyo dibuka kembali dengan harapan membawa kebahagiaan yang telah hilang akan kembali lagi ke masyarakat Jepang.
Taman ini telah ditutup sejak gempa bumi 11 Maret yang menghancurkan Jepang utara dan diikuti kekurangan listrik. Pada hari Jum'at penggemar Disney berbaris sejak 06:30, satu setengah jam sebelum dibuka kembali, semua berharap menjadi yang pertama masuk taman.

Mickey dan Minnie Mouse, Goofy, dan sejumlah karakter Disney lainnya mengejutkan pengunjung ketika gerbang dibuka pukul 8 pagi seperti Disney histeria melanda kerumunan saat Mickey menari di depan pengunjung beberapa menit sebelum pembukaan resmi taman.

"Kami sangat bersemangat, kami hampir menangis," kata Mika Hasegawa pengunjung Tokyo Disneyland. Pembukaan kembali datang pada saat kritis bagi Jepang, negara ini berjuang untuk mendapatkan kembali kondisi yang normal setelah gempa dan tsunami yang menewaskan 13.500 orang di timur laut negara itu.

Banyak penduduk Tokyo telah menahan diri dari perayaan yang berlebihan dan pihak-pihak lain demi menghormati para korban. Pengunjung Disneyland Minako Ootsuka mengatakan bahwa sementara orang Jepang harus memperhatikan bencana, itu penting untuk memanfaatkan waktu yang baik dan melepaskan stres.

Hiroshi Suzuki, public relations manager for Oriental Land Co – perusahaan pemilik Tokyo Disneyland – setuju. Ia mengatakan pengunjung begitu gembira ketika mereka melihat Mickey dan karakter lain, ia berharap bisa membawa kebahagiaan kepada semua orang di Jepang.

Pengunjung lain ke taman ini mengatakan mereka itu penting untuk keluar dan menghabiskan uang demi terciptanya ekonomi berjalan kembali. Erika Kanehira mengatakan dia berencana untuk mengunjungi Tokyo Disneyland sesering mungkin dia juga akan membeli barang dagangan sebagai bentuk sumbangsih demi daerah bencana pulih kembali.

Dari setiap pengunjung mulai 14 Mei, taman Tokyo Disneyland akan menyumbangkan ¥ 300 (sekitar $ 4) kepada Palang Merah Jepang. Taman ini juga akan beroperasi di bawah jam kerja dipersingkat untuk menghemat daya.

Suzuki berharap perusahaan taman berjalan pada jam kerja biasa sesegera mungkin. Tapi sebagian besar pengunjung senang taman telah dibuka kembali seperti biasa.

Tomomi Takehashi mengatakan Disneyland tempat di mana orang datang untuk tertawa dan tersenyum dan itu mungkin persis kebutuhan masyarakat Jepang saat ini.
Cara Mudah Mempelajari Berita Bahasa Inggris
Reading Skill
Baca dua artikel berita setiap hari.
Baca artikel berita dari hari sebelumnya dan periksa apakah kamu mengingat semua kata baru atau tidak.
Listening Skill
Dengarkan berita mulai hari ini dan baca teksnya secara bersamaan.
Dengarkan berita mulai hari ini tanpa membaca teks.
Writing Skill
Jawab pertanyaan di bawah berita hari ini dan tulis jawabannya di komentar.
Speaking Skill
Pilih satu lingkungan yang mendukung belajar bahasa Inggris.
Praktik berbicara bahasa Inggris dengan lingkungan yang sevisi.
Itulah beberapa contoh berita bahasa Inggris beserta artinya dan cara mudah mempelajari materi ini yang semoga menambah wawasan kamu ya, fellas. Jika kamu merasa belum memahami materi ini dengan baik, kamu bisa bergabung di Kursus Academic English Lister. Dengan metode yang menyenangkan, belajar bahasa Inggris tidak lagi membosankan!